Certificate in Education & Training
Level 4
Description
The ITEC/VTCT level 4 teaching certificate in education and training is for graduates/therapists who would like to take their career into the teaching field. Individuals who pass this course will be entitled to be a lecturer on courses leading to ITEC/VTCT or Nationally recognised qualifications.
Aims and objectives
The course content covers planning, delivery, assessment and the use of resources. This qualification is suitable for trainee teachers, those experienced in a teaching role and those working as assessors who wish to gain a teaching qualification. Successful graduates can progress to higher level teaching qualifications.
Progression
On completion of this qualification you may choose to undertake further study
Qualifications you could progress to include:
VTCT Level 5 Diploma in Education and Training
You can progress from the VTCT Level 4 Certificate in Education and Training directly into employment as a teacher in the further education sector.
Teaching practice and assessed observations requirement
There is a requirement for a minimum of 30 hours of practice for this qualification with a minimum of 3 assessed observations. There is no requirement to evidence working with groups of learners to achieve this qualification unless the units undertaken specify that purpose. However, where trainee teachers are working solely with individuals, a programme may also include support and preparation for working with groups. The minimum of 30 hours of practice for this qualification will be offered by the college.
Course entry requirements
Applicants need to be qualified, proficient or experienced in the subject which they intend to teach. It would be expected that applicants have sufficient personal skills to complete the academic and other requirements of the programme. They will also need to be able to support their learners at the appropriate level whilst delivering their subject specialism. Applicants need to demonstrate the potential to study at minimum academic level 4–the same level of study as the first year of a degree course.
Qualification structure
To be awarded the VTCT Level 4 Certificate in Education and Training, learners must achieve a minimum of 33 credits.
All mandatory units must be completed. A minimum of 15 credits must be achieved from the optional units.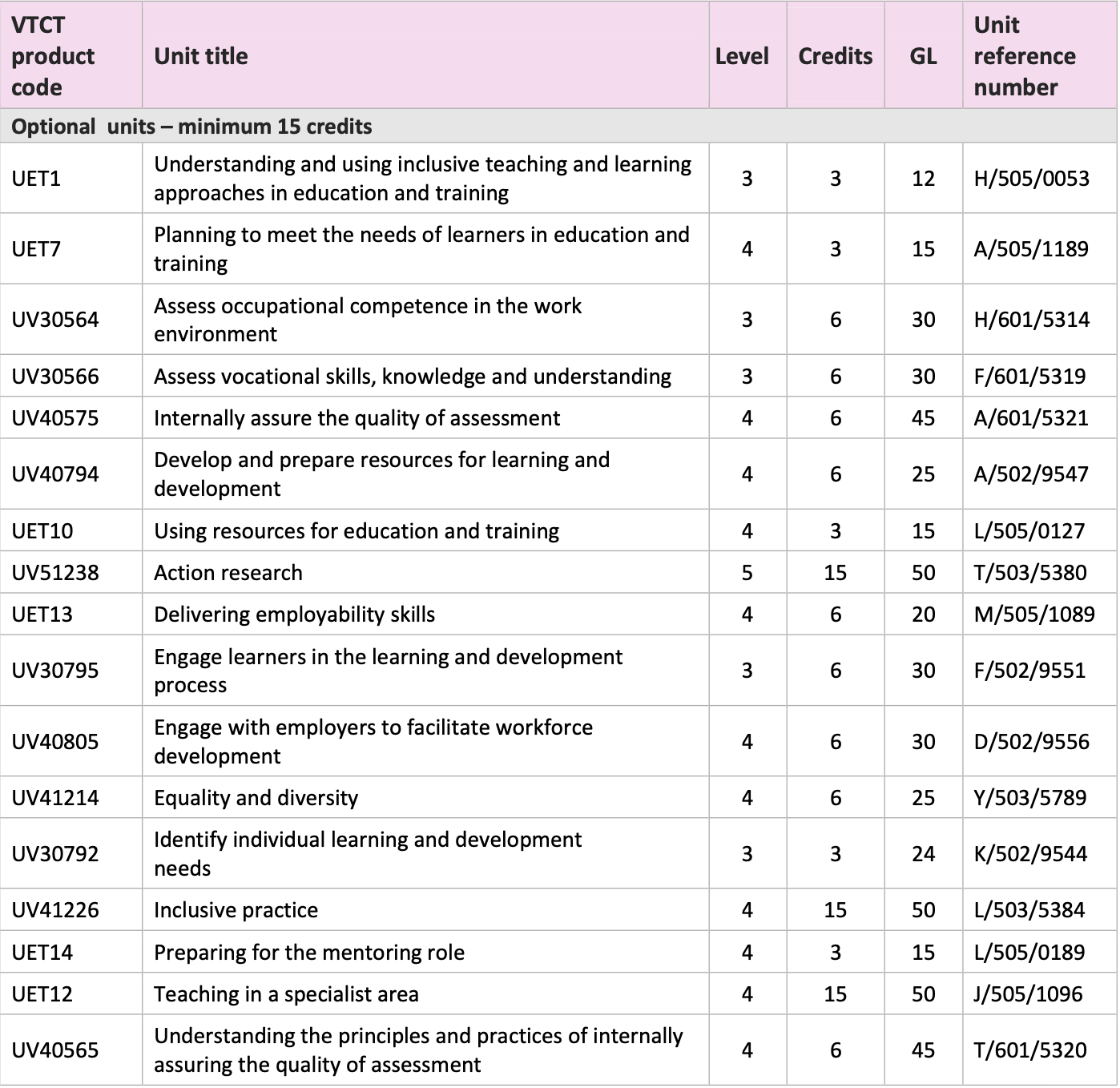 Find out more