Certificate in Sports Massage
Level 4
Description
Course is designed to enrich the learner in understanding the advanced anatomical, physiological & pathological principles relevant to the application of Sports Massage. It will provide learners with advanced palpation skills & those needed to analyse posture & range of movements. It will also provide practitioners with a range of advanced skills & massage techniques to prevent & manage injury in Sport & Active Leisure. Practitioners will learn to critically evaluate massage strategies & methods to inform on future treatments.
Aims and objectives
The main aim of the VTCT (ITEC) Level 4 Certificate in Sports Massage is to enable learners to gain the necessary practical and theoretical skills in order to provide sports massage therapy treatments to the general public and to gain employment in the sports industry. This qualification is suitable for learners aged 16 and over and is designed to provide occupational competence at level 4. It also provides a sound platform into further training at level 5.
Content
This qualification is for learners who want to work within the sports industry. The qualification consists of 3 mandatory units with a total of 128 hours of Guided Learning (GL) to achieve the full qualification.
The main skills the learner will perform are:
Conducting subjective and objective assessment–to include identifying bony structures associated with major joints, identifying soft tissue structures located at the major joints, joint end feels, pre-dispositions to injury and dysfunctions, factors that influence recovery from injury, treatment planning, postural types and deviations, pathophysiology of common injuries, methods and purpose of a range of objective assessment techniques and carrying out subjective and objective assessments
Treatment modalities to support soft tissue repair–to include the aims of treatment and treatment options during acute, sub-acute and chronic stages of injury, treatment protocol, use of and adverse reactions to cryotherapy and thermotherapy

Sports massage techniques to prevent and manage injury–to include a range of soft tissue techniques, protocols to follow for each technique, evaluating the effects of each technique, preparing clients, monitoring tissue response throughout treatments, adapting the techniques and treatment plan to meet the needs of each client, adapting own posture throughout the application to ensure safe and effective application and presenting aftercare advice to the client The learner will also develop knowledge about client care and communication and health, safety and hygiene which is essential in order to work and be successful in the industry

This qualification also provides:

The related knowledge and understanding required to perform the sports massage therapy listed above effectively, in particular advanced knowledge of anatomy, physiology and pathology of the body that may influence the massage methods used to prevent and manage injury
Opportunities for learners to focus on the development of their wider skills in a sports massage therapy setting, such as communicating with clients, working with others and problem solving
Opportunities for learners to develop a range of skills, techniques, personal qualities and attitudes essential for successful performance in employment as a sports massage therapist
Opportunities for progression
Once learners have achieved the VTCT (ITEC) Level 4 Certificate in Sports Massage they may progress on to other VTCT (ITEC) or equivalent qualifications at level 5 for example:
Level 5 Certificate in Sports Massage Therapy
Sports science
Physiotherapy
Opportunities for employment
There are opportunities for a sports massage therapist to find employment in a variety of areas:

Gym
Health clubs
Sports clubs
Sports facilities
Own sports massage clinic
Pre-Requisites:
Unit 30 - 40 : Anatomy & Physiology
Unit 2: Holistic Massage or Unit 60: Swedish Massage
Qualification structure
To be awarded the VTCT (ITEC) Level 4 Certificate in Sports Massage, learners must achieve all mandatory units.
The minimum GLH required to achieve this qualification is 128 The minimum TQT required to achieve this qualification is 190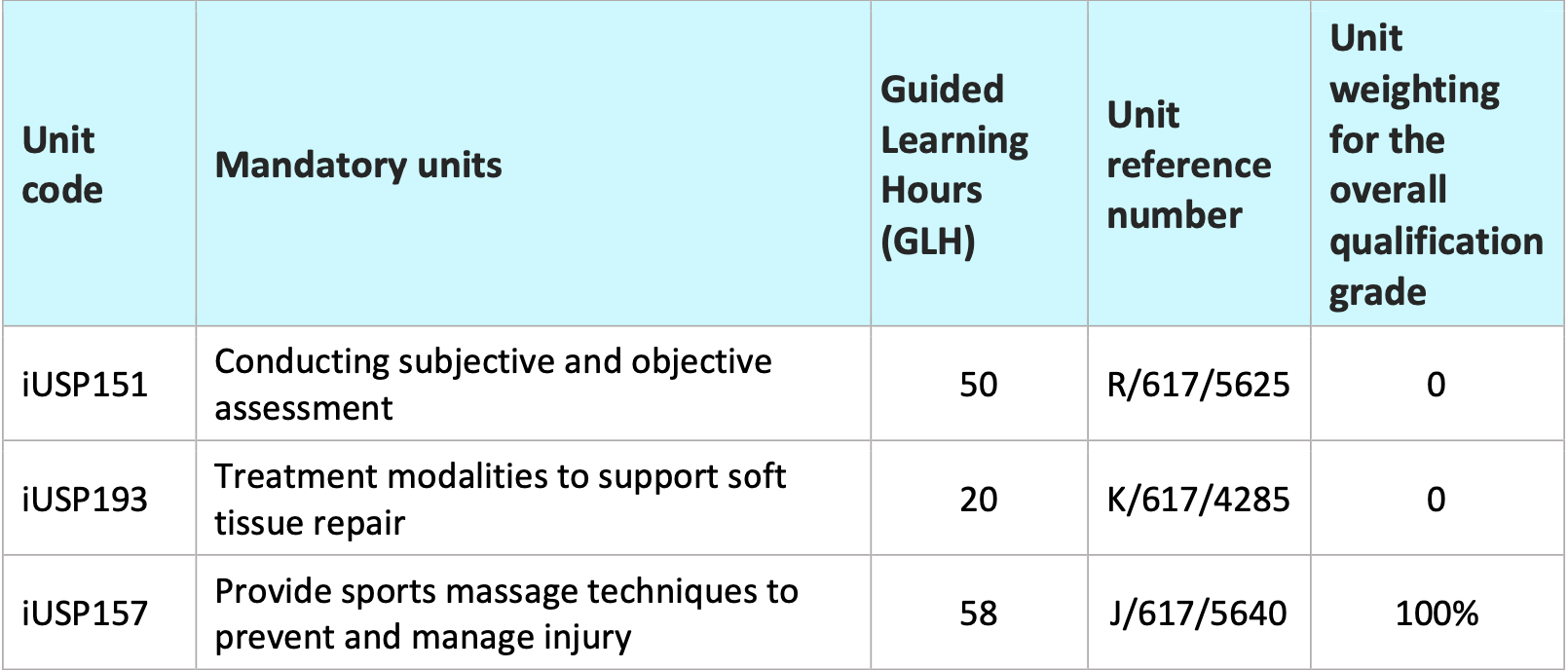 Assessment
All treatment evidence, internal assessments, assignments and underpinning knowledge must be completed prior to the final practical examination.
The final external practical examination will be carried out by the external examiner at the end of the period of learning. The external examiner will also verify a sample of the treatment evidence, internal assessment and assignments.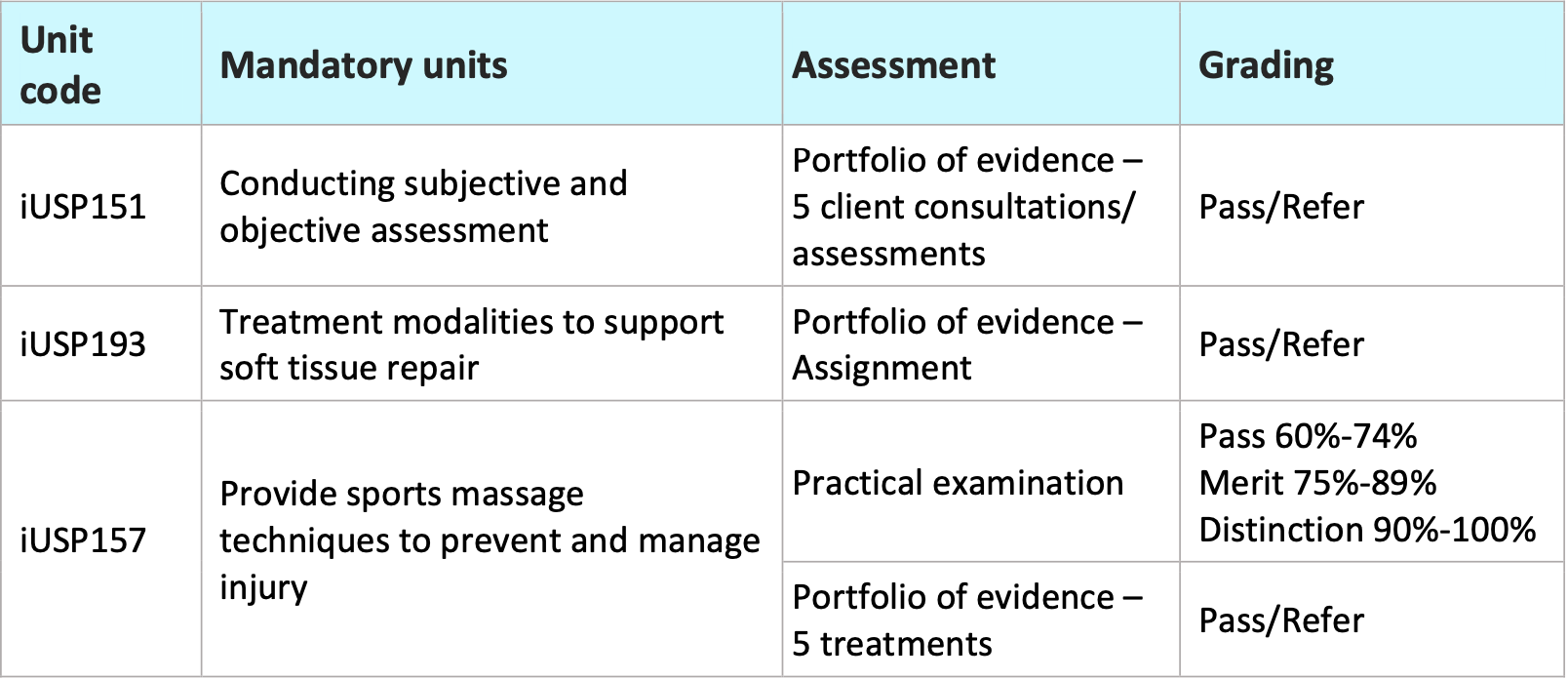 Find out more